The Shutdown of Groovy Bot
No Good Prospects for Music Bots on Discord
YouTube, a Google subsidiary, is coming down hard on Discord music bots. The proprietors of the famous
Groovy Bot
, which allows Discord users to play songs from YouTube videos and is deployed on over sixteen million servers, have received a strongly worded letter from Google. Groovy will stop its bot starting from 30th August 2021 to comply with Google's request that the service is removed within 7 days.
Written by grex on 09/06/2021.
Is This Just the Beginning?
Google took action on this case, according to YouTube spokesman says, "We alerted Groovy about breaches of our Terms and Conditions, including altering our service and deploying it for business gain," noting that the company's application programming interfaces are for developers who follow the company's user agreement policies.
Over the last half a decade, the platform has been a major part of my life. In a statement publicizing the shutdown, Groovy Bot founder Nik Ammerlaan writes, "It began when my friend's bot failed and I believed I could create a superior one." This bot is a discord offering that pulls songs from YouTube and lets players listen and distribute them on different servers.
It has grown in popularity over the last half a decade, with some forecasts putting the number of users at around two hundred and fifty million people. YouTube and Google have finally taken notice of it. And other
Discord bots
might also be targeted very soon, depending on the size and it's business model.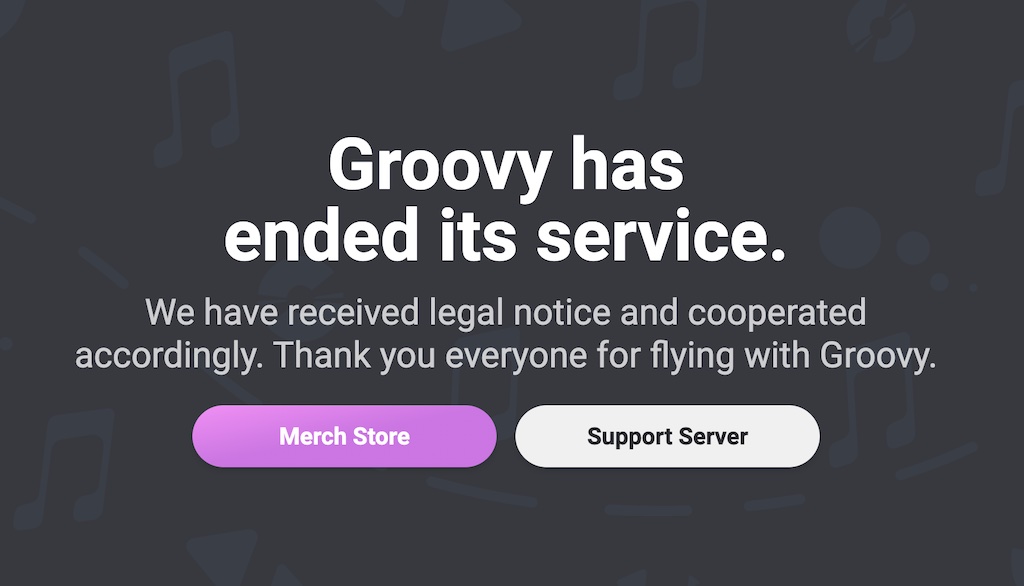 Groovy Bot Shutdown Message
Groovy and the Spotify, Soundcloud Connection
Even though Groovy Bot integrates with YouTube, Spotify, Soundcloud, and a host of other platforms, the founder acknowledges that it is "something like ninety-eight percent of the music played on the platform came from YouTube." Google's decision to take the bot down might imply that some other bot operators will face the same fate.
Rythm
, which is the most renowned Discord bot, is still alive and well - for the time being. Jet, the bot's co-proprietor, stated in a statement to the bot's users, "We do not presently intend to close down." Rythm is deployed on almost twenty million Discord servers, with over five hundred and sixty million active users, according to the company.
The founder stated that he attempted to contact one of Rythm's proprietors, but soon after replying to his message immediately, the proprietor did not answer questions regarding whether the Alphabet subsidiary had served a restraining order. If Google isn't satisfied with them both, it's difficult to believe it will allow the Rythm bot to thrive.
Groovy Bot's demise follows only weeks after many Youtube clip download services mysteriously vanished. This bot's disappearance also creates a gaping void in Discord's bot options. In a response to The Verge, a Discord representative said, "We consider the rights of people highly and encourage developers who develop programs for Discord doing the same." If a robot on Discord infringes on the rights of a 3rd-party, that 3rd-party or Discord acts accordingly."
Alternatives to Groovy Bot
We don't know how long other Discord music bots will work properly, but here is a short list of other bots that might replace Groovy Bot for a least a while. Rest in peace, Groovy Bot.
Recent Articles
Popular Bots
Trending Bots